Why we are the perfect place for couples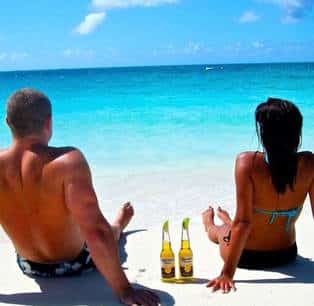 Choosing a vacation destination for you and your significant other (s/o) can be quite the challenge so I would like to help you make it a simple one!
Picture this – a Caribbean island, low to mid 80's temperatures, bathing suits, on the beach with your toes in the soft, white, powdery sand while overlooking the most sparkling turquoise water you have ever seen; the majority of your days spent in complete relaxation and the end of your days sitting together on a blanket in the sand, with a bottle of your favourite wine watching the sunset over the ocean.
​
Now before we all go into daydreaming mode, let's get one thing straight – this place does exist and it does not need to cost an arm and a leg to be there. Everyone deserves a romantic get-a-way with their partner and I think Turks and Caicos is the best place for it!

Why Turks & Caicos
Turks and Caicos is one of the most beautiful destinations in the world and I am not saying this out of bias. Over the past few years our beautiful Grace Bay Beach has continuously been rated as the #1 Beach in the world.  Our country (TCI) is also known to be one of the safest Caribbean destinations so you can forgot worrying about that.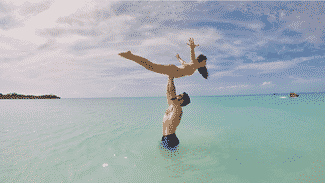 Aside from Grace Bay Beach, TCI has a great selection of other beaches you can explore. One I would recommend visiting is Sapodilla Bay. This crystal clear, shallow, calm water beach is substantially more secluded than Grace Bay allowing for a more quiet and private experience. Pack a lunch and have a picnic on the beach, bring your towels and snorkel gear if that interests you; then you're good to go!

Why Ports of Call Resort
Do your research and you'll find a large number of hotels in Turks and Caicos. Do a little more and you'll discover that the average room rate on the island is $800/night + tax ($USD). Refine your search to find something with high value and lower cost – you'll come across Ports of Call Resort.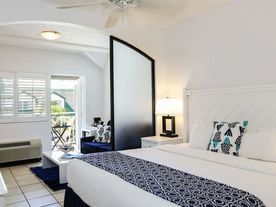 Our property is located in the heart of Grace Bay which is exactly where you want to be staying in Turks and Caicos. While a secluded villa on a private beach may sound tempting, you have to ask yourself, do you want to be cooking while you're on vacation or have to taxi or drive every time you want to go somewhere?  Staying at Ports of Call Resort means you are within walking distance to a majority of the islands' best restaurants, shopping and tourist attractions.
We offer you and your s/o the boutique, romantic, and private experience you are looking for at an affordable cost. Wake up in our modern, spacious rooms and open up those California shutters to find a view of our pool or gardens. Start your day off by grabbing some of our daily continental breakfast and eat it poolside, bring it back to your room, or take it to go and the rest of the day can be as you desire. Enjoy a variety of our amenities including a hot tub, hammocks, stand-up paddle boards, and kayaks or see below for a list of activities I recommend.
Things to Do
There are lots of things you and your s/o can do together on the island, and the best part about staying at Ports of Call Resort is that you will most likely have extra cash to do so. Everything you do on this trip will make great memories you can cherish forever. I recommend trying something new so you can check off another "first time" experience with your partner.
1) Spa day – There are so many spas you can explore together on the island. Some of my top recommendations would be:
Spa Tropique

 ($)

 – high value and low cost – rated as the #1 spa in Providenciales on TripAdvisor (located on property) .
The Palms 

($$$)

 – a little pricey and further away but this experience will be the upmost luxurious treat you and your partner will experience .
Seven Stars 

($$)

 – enjoy great service and atmosphere for a mid-range price.
2) Horseback riding on the beach – Take a look at Provo Ponies Instagram page and you will not have to think twice about doing this. They cater to your level of experience so everyone is set to have a fun and safe ride.
3) Paddleboard through the mangroves – Are you and your partner all about being active? If so, then look into SUP Provo for their guided paddle board tour excursions which will take you through scenic routes.
4) Book a sunset cruise – Ocean Vibe's 48-foot catamaran will treat you to a taste of fine wine's, appetizers and a champagne toast to the sunset.
5) Photoshoot – When is the last time you and your mate had some good quality photos taken of you? While memories do last forever, there is nothing like going through a stack of photos to remind us just how beautiful everything was about your trip.
6) Walk on the beach – Not only is it good for your health but it's free! Grace Bay's 12 mile stretch allows you to walk and explore the island. Wear your bathing suit with a cover-up, bring your wallet and stop in at some bars along the way for a drink.
7) Rent bicycles / scooters – Explore the island exactly how you would like and save some money on guided tours and explore the island yourself so you can spend the day exactly as you wish. Get in touch with Caicos Wheels to inquire about rentals and make sure to mention you are a Ports of Call Resort guest for a discount.
8) Parasailing – Sit sky high with the one you love as you overlook beautiful Turks & Caicos. Ask our beach attendant to set you up right from our beach spot.
9) Get diving certified – Looking to try something new? Dive Provocertifies divers right in our pool. Take a 1 – 3 day course and you are off to the sea!
10) Take a yoga class
– Another great way to stay active with your partner. Retreat Yoga & Wellness Studio is located on property and offers a number of different packages.
---
Restaurants
Everyone needs to eat so it's a good thing Turks & Caicos has restaurants galore and I don't think you can go wrong with any of them! Aside from our 4 restaurants on property, there are about 20+ different restaurants and bars within a 10-minute walking distance from us but I thought I'd highlight some of my favorites: