5th Annual New Year's Eve Party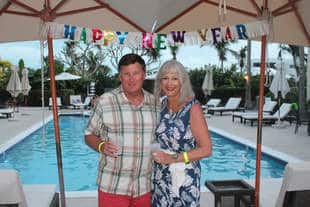 December 31st, 2017  marked our 5th annual sold-out New Year's Eve Party and we have to say, it was bigger and better than ever!
For the past few years, we've had approximately 80 guests join us around our pool for a sit-down buffet dinner, while enjoying live music, games, and dancing. We then would head to the beach and watch a fireworks show accompanied by champagne at midnight.
Due to popular demand, we knew we had to find a larger space so we could accommodate more of our guests. We also knew we needed somewhere with a little more roof protection in case of rain – unfortunately we learned this the hard way last year.
That's why this year, we hosted the party at one of our on-property restaurants – Crackpot Kitchen. They have catered our New Year's Eve Parties in the past and the food is always a great hit. Between Chef Nik's speciality Ribs, barbecue sauce and local inspired dishes, well, it's a good thing the buffet was all-you-can-eat!
We began the night gathering around our pool for a cocktail hour. Guests were able to grab their new year's accessories, pose for photos, as well as mingle with our staff, managers and other guests all while enjoying some drinks and appetizers prepared by Via Veneto, the Italian restaurant in our plaza. We then headed over to
Crackpot Kitchen
to sit down for another amazingly prepared buffet dinner by Chef Nik and his team.
It was about 8:30 when things really started to heat up and the party got started! As people were finishing their meals, Chef Nik (owner and head chef of Crackpot Kitchen) turned on the dance music and started a cha-cha chain.  Sir Clarke, our live entertainment opened the night up with Perfect, by Ed Sheeran on his saxophone. He proceeded to play Forget You by CeeLo Green and one of our guests, Trevor LaRose, took the microphone and absolutely nailed it. No one wanted Trevor to end so he continued to sing alongside Sir Clarke and his saxophone. Between the music entertainment, Chef Nik initiated hula hoop, karaoke, dance and limbo contests!
Before we knew, it was 11:30 which meant gathering up all 100 attendees to head to the beach to ring in the new year with an outstanding fireworks show and champagne. We were happy to see young ones stay up to celebrate at midnight.
Between the 81 adults, 4 teens, and 15 children, I think it is safe to say, that all us started the New Year off right!

We hope everyone who did not have the opportunity to join us this year will be able to in the future. We believe we offer the best value New Year's Eve Party on island and create a memorable experience for our guests.

If you did join us, we would like to once again say thank you for ringing in the new year with us.
Happy New Year, let's make it a good one!
For our full photo gallery on this New Year's event, click here.