Saturday in TCI
We're going to suggest that you take a little adventure today. Did you know the Turks & Caicos is made up of 40 islands and cays of which only 8 are inhabited? There is so much more to see beyond Providenciales and these islands are extremely easy to get to as well. Whether you ferry, private charter a boat or jet ski, or join a guided boat or jet ski tour, you will get to experience a completely different view of Turks and Caicos through each island.  If you like a little more adventure, then North & Middle Caicos is a must see!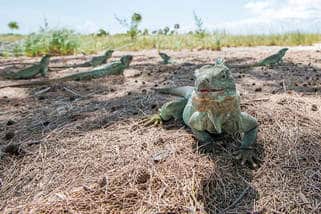 Visit North & Middle Caicos (other islands too)
Whichever way you choose to get there, make sure to arrange a rental car for pick-up from the port so you can get to the beaches, caves and more! (Tip: ask for a jeep wrangler so you can do some serious off-roading)We also recommend going to
Iguana Island
if you are interested in seeing an island solely dedicated to iguanas!
*Tip:
If you private charter a boat for the day, inquire about the activities it offers. They usually offer food and drinks but some even have tubing, waterskiing and wakeboarding! If you are just into the idea of tubing, waterskiing and wakeboarding, visit
Nautique Sports
– just a walk down the street from us!
Evening Entertainment Recommendations:
Via Veneto – head to this restaurant in the Shops of Ports of Call for beautiful authentic Italian cuisine. While the menu may be a bit on the pricier side, the quality sure makes up for it!
The Sand Bar – after dinner, head to this popular, small atmosphere bar located just 700m from our property (very fun on Saturday nights).
Casino – just a short 5-minute walk east of the hotel (or a shuttle is provided), enjoy a small intimate casino providing all the games, tables, and jovial atmosphere that you would expect from a Caribbean casino.